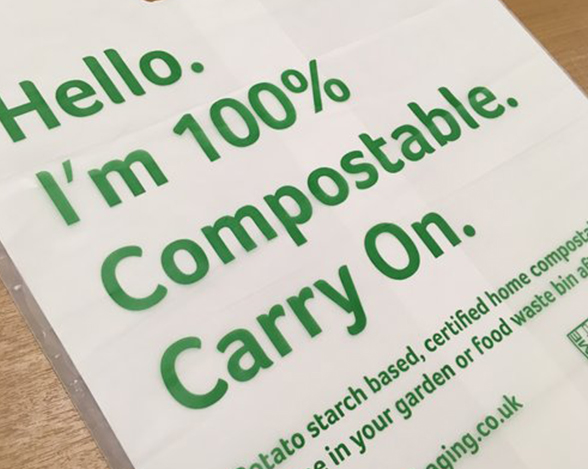 It's time for change.
Compostable bags have been around for a little while. We most commonly use them for our food waste.
Now, Sun Packaging are able to offer the same fantastic 100% compostable and biodegradable material in shopping carrier bags. Still half the cost of similarly sized paper bags, compostable material is a viable and eco-friendly alternative to plastic shopping carrier bags.
Once the bag has reached it's suitable end of life, simply put it in your garden or food waste bin. If you have a home composter, it can also go in here. Remember, these bags cannot be recycled, so don't put it in your plastics recycling.
Made from potato starch, these bags are certified home compostable, and complies with European standard EN13432.
If you're ready to make the change to compostable carrier bags, contact us on 01245 79 1945 or email us.
More Information
The RSPB, National Trust, and the Guardian Newspaper have all chosen to stop using polythene wrap in favour of this compostable potato starch alternative. Here are 3 ways you could dispose of it…
Add to a well-maintained home compost heap
Put it in your garden waste bin
Use the bag to line your food waste caddy
The majority of councils provide garden waste bins, but if you are unsure please check with your local council's own advice.
Please do not place this bag in your recycle bin. If you are unable to dispose of it in a compost heap or garden waste bin, please pop it into your domestic waste.
This product is certified home compostable. Complies with European standard EN13432. Of course this does come at a cost and prices will naturally be more than our normal bags, but we feel this is a viable alternative to oil based polythene with the best green credentials to back it up.
Currently plastic products are being targeted by the governments and environmental institutions so we are constantly being asked for viable alternatives and we feel potato starch carrier bags really are.
Frequently asked questions
What is the product and how is it made? Bioplast 300 is a plasticiser and GM Free material derived from potato starch, suitable for domestic and industrial composting.
How should I dispose of it? Put into your home compost bin, or food waste caddy, or green waste bin.
How long does it take to compost? Typically within 360 days for home composting or within 180 days for industrial composting.
How does the process work? The composting process starts after contact with micro-organisms, when humidity level is up to 80% and temperature over 25oc.
Are there any contaminants left behind? At least 90% of the material will convert to co2, the remainder is converted to water and biomass.
What happens if it is put into landfill? Bioplast 300 is not intended for landfill, although it will degrade eventually depending on the conditions.
Will it dissolve in water? No. Although pure starch is soluble, once processed, the Bioplast 300 material is not.
Does Bioplast 300 contain allergens? There are no allergens in Bioplast 300, and it complies with the EU 2003/89 directive.
Compostable Carriers How should it be stored? Store in normal dry warehousing conditions away from direct sunlight and above freezing temperatures.
What is the minimum/maximum thickness I can buy? 20mu minimum and 60mu maximum.
Can you print on Bioplast film? Yes the film is suitable for print, it should be noted that ink coverages must be within specified parameters.
Is it suitable for food use? Yes. Food grade and food contact.
Do you have any certifications? TUV - OK Compost Home BRC Accreditation - Grade AA
Are there any limitations we need to consider? Bioplast 300 remains the responsibility of Alfaplas to end of life. Any additional processes must be disclosed and discussed.