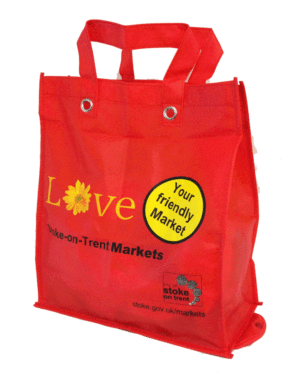 A re-usable bag for a vibrant marketplace
Stoke Markets wanted to blaze a trail for eco-friendly, yet striking re-usable bags. Many organisations have copied Stoke's lead since. A cost effective option was offered: A non-woven, polypropylene folding tote bag. These bags are much stronger than standard polythene, with the added benefit of being washable. Over time, the bags prove to outlast standard 'bag for life' carriers made from polythene, proving to be a true bag for life.
Our in-house design team correlated with Stoke Marketing, to create the 'Love' branding, along with the bright and vibrant red colouring. The handy bag folds up into a small square for easy stowage and transport to it's next use.